A Home Away From Home!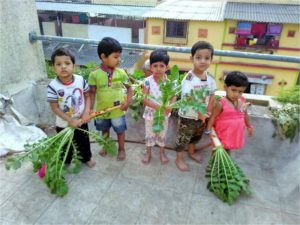 Women are stepping out of their traditional roles and and forging their way ahead in the world. However, we always worry about our children back at home…. are they safe and secure? Have they eaten their food? Done their home work? Studied? Played? Connected with other children…. so many questions plague us.  
Understanding these concerns, after a 2 year survey and signature campaign SMS in 1987 started childcare centers. Today the need of child care center is recognized by corporate, semi-government and the government bodies.
In all our day care centers, we take care of every child's developmental needs. We even offer the facility of one day care in our centers.
In all our centers we offer
Individual attention

Developmental activities

Trained staff and lady care-takers

Balanced nutritious diet

Meals, snacks, and milk for every child staying full-day

Library (Marathi/Hindi/English) for the school-goers

Lots of toys for the tiny tots

First-aid
Special Features
One-day baby-sitting facilities
Skills Training and Activities in the vacations
All Festivals and Birthday Celebrations